Our involvement with the Kickstart Scheme, providing young people with work opportunities, sees success for the first person to be placed with us.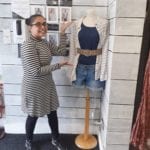 The Government's Kickstart Scheme is an initiative to provide paid six month work placements for young people between the ages of 18 and 24. At Active Prospects, we are hoping to create placements for 20 or more young people over the next 18 months. Our first placement, Lisha, has recently achieved a permanent position within 2 months of starting on the scheme. Lisha tells of her experience and employment journey:
"Hello, my name is Lisha. I joined Active Prospects in early May as the Marketing and E-commerce Assistant through the government funded Kickstart Program. My role was hugely diverse, and no one day was the same. My week consisted of working with Marketing team at the head office for 2 days a week and the rest as an E-commerce Assistant at our Re.Work.It. Charity Boutique in Reigate.
One of my tasks as a marketing assistant involved re-branding documents to the current brand guidelines. This improved my knowledge base in editing Microsoft documents and Excel sheets. I was also in charge of organising intranet files within the company. This enabled me to familiarize myself with key policy and procedures here at Active Prospects, allowing me grasp key elements of creating crucial documents. Key skills I developed in the process were to work under pressure and stay precise. This was because organizing these documents required high level of precision under little time.
On the other hand, as an E-commerce Assistant I was constantly on the move, and it heavily involved being creative. One day I would write product descriptions for our online store, another I would style clothes for weekly Instagram posts! My journey so far had given me best of both worlds and I knew I wanted to stay at Active Prospects for as long as possible.
I was very fortunate to find a permanent role here at Active Prospects as a Care and Support Administrator. With a medical background myself, I could not stop but to apply for this role. I am delighted to share that I have been successful and joined as a permanent member of staff.
I very much look forward to training onboard for this role and further develop my skills and knowledge to become an aspiring member of staff here at Active Prospects."
Some top tips from Lisha!
Stay positive with a can do approach, be yourself and always take the initiative.
I would like to take this opportunity to thank my Marketing and Re.Work.it team for being such a fantastic team to work with." Be a team player and always take the time to check on your teammate's wellbeing.
Look for opportunities to develop and grow.