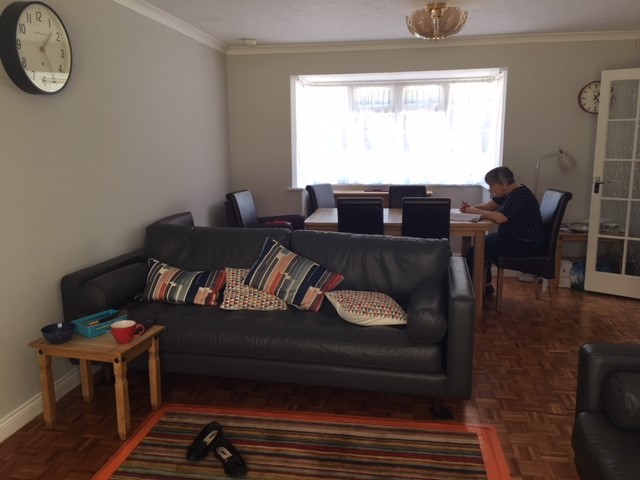 Active Prospects is undergoing a programme of improvements and development across its services and supported living properties, to ensure they provide modern, practical homes which facilitate independence for the people we support. With support from Surrey County Council, we received an NHS grant of £100k to help pay for these works.
David* is a sprightly 71 year old who has been living with his friend Margaret*, aged 82, for nearly 39 years. Both have moderate learning disabilities and health issues related to their age. However, both of them enjoy their independence. They have lived together at Active Prospects' Temple Road property for nearly 39 years. Temple Road is a three-bedroomed shared house in Epsom, offering supported accommodation. The third room, upstairs, was available for another tenant, but had been vacant for some time, and the upstairs bathroom was becoming increasingly inaccessible for David and Margaret.
The house was in need of modernisation and was becoming harder to maintain. Active Prospects decided to give it a complete makeover and give them the home they deserved, fully involving David and Margaret in all decisions about the changes, decorations and furniture. Plans were drawn up to create two separate flats, each with their own front door. The upstairs flat has one bedroom, a kitchen, living space with dining area and a wet room.
David and Margaret now occupy the two-bedroomed downstairs flat which has been reconfigured. Margaret now has a bedroom with adjacent walk-in closet. David has a larger room at the rear. A new wet room has a seated shower to make bathing easier. The kitchen, with access to the garden, is bright and fresh with new white goods. Draughty windows have been repaired or replaced, and the garage has been removed to open up the garden.
The development works took eight weeks during which David and Margaret lived in one of Active Prospects' other shared houses. It was an upheaval for them but they were given support to ensure it was a positive experience for them. The new flat, all on the ground floor, is more accessible for them as they get older, and easier to keep clean and tidy. They also have a new neighbour, Peter*, who has moved in to the flat upstairs, making better use of the house to meet people's aspirations.
Everyone was very excited to move back in to the transformed property in mid-February with Margaret saying she felt like she was moving back in to a hotel!