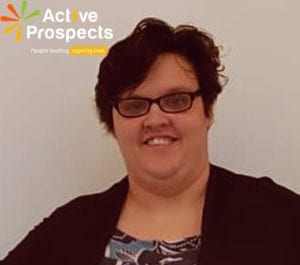 Recently, we advertised for a new reception team and encouraged people we support to apply to boost their independence. We received ten applications, and interviewed candidates during lockdown. Following the interview process two candidates were successful. Today we meet one of them – Emma!
Over the next few weeks, we will begin to get to know Emma better as she prepares to start her new job. Like millions of people up and down the country, Emma wants this pandemic to end so she and many others can begin new jobs or return to the workplace.
Here we get to know why employment is important for Emma, and some of the challenges she faces when applying for and interviewing for a job.
How long have you been with Active Prospects and how would you describe the support you receive?
Emma has been supported by Active Prospects Supported Living Team for almost 3 years. She says the support she receives focuses on helping her to experience independence. "The support I receive is caring, supportive, honest and hilarious. There are many positives about the support I receive but being supported to take greater responsibility over my finances is the most important to me as this really supports my want for independence."
Why employment is important to you?
"Employment is important to me for many reasons, but the most important reason is because it helps me build my confidence and skills in the workplace".
How you feel when you apply for a job?
Emma said she enjoys applying for jobs because she wants to work and has lots to say about why she should be given the job she's applying for. When asked about application forms and whether Emma finds them challenging, Emma said "Application forms are scary, there's too much to fill out. They can cause me to feel anxious, and self-doubting".
Tell us about your interview experiences?
"Interviews make me feel anxious too, but you just have to get on with them and do your best". When asked if there were any standout interviews that were particularly stressful, Emma said "All interviews are scary and stressful due to my anxiety". What about the interview for the reception role at Active Prospects? Emma said, "This was also a bit stressful due to my anxieties but also the most fun. Active Prospects created a fun interview which helped me relax and get into my groove!"
What was it like being interviewed using Zoom / Teams?
"I have been using Zoom throughout lockdown, but it was my first time using it to attend an interview. I found it a bit strange to start with, but as the interview went on, I became more relaxed and kinda forgot that I was on Zoom".
List three things you hope to learn or achieve from your new job?
1. Develop my employability skills and add to my CV
2. Help me develop my confidence.
3. Increase my sense of independence.
What would be your top 3 interview tips?
1. Be yourself, because you don't want to portray someone that you're not!
2. If the interview is last minute, just go on with an open mind, and go with the flow. (Have fun!)
3.Try and stay calm, if you're anxious, before the interview, go somewhere where no one can hear you and rehearse, give yourself a pep talk, say it's going to be scary, but that's ok!!
Active Prospects offers paid employment or supported volunteering opportunities for people with learning disabilities, autism or mental health needs, across our head office and charity boutique. We also run the Aspiring Prospects employability and skills programme for young people aged 17-24. If you would like to find out more, please get in touch: info@activeprospects.org.uk