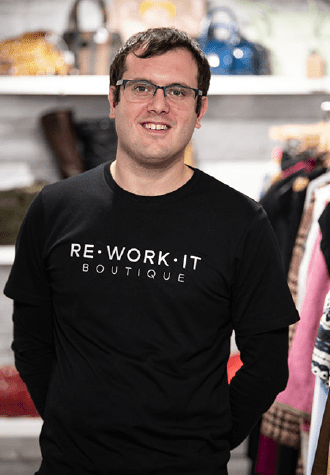 We all know how important it is to work, not only to pay the bills each month, but to also feel valued and proud of what you do each day. But, do you know that only 9% of disabled people in Surrey currently hold a position in full time employment? That is why Active Prospects strives to provide opportunities for people we support to gain valuable skills through work to enable them to reach their potential.
Chris is part of our awesome Re.Work.It team, who run and manage a Boutique on Reigate high-street, Surrey. The Boutique recycles fashion to enable local people with disabilities to gain skills and is part of three local enterprise projects set up by Active Prospects and funded through The National Lottery. All of the enterprises have one very positive goal in mind, to encourage the development of people supported, with learning disabilities and autism, to gain paid employment.
Here's Chris' story in his own words…
"I'm Chris and I'm part of the team at Re.Work.It.
I started off gaining skills through volunteering at Active Prospects' charity shop in Horley, which has since closed down, but I found the work rewarding and developed to a Key Holder role, which was much more responsibility. When it closed, I felt confident to apply for a paid role at the new Boutique. After an interview I was given the role as a paid Sales Assistant and I am proud of what I do. I have Asperger's Syndrome and Dyslexia, but I have not let that get in the way of finding employment. At times I find it slightly harder to socialise and that can make it a bit more difficult for me in the Boutique, but the team is so supportive and there are processes in place which means step by step I can learn to build my confidence.
I have been given a lot of tasks to suit what I am best at, so I will work on uploading items through the till and manage the data on the i-pad, which I really enjoy doing. There are some areas I need to improve on a bit more, but that is where the team is so behind me. I am going on a training course to help develop my sales technique skills, which should help me on the Boutique floor with customers.
I really enjoy working at Re.Work.It and having a job helps me get an income, as I have my own flat, but also makes me feel more settled. The team is great too!"
Active Prospects' CEO, Maria Mills says "This is an exciting time as we grow as an organisation and provide even more opportunities for people we support to gain life or work skills. Only 9% of disabled people in Surrey * currently hold a position in full time employment, which isn't good enough. To work and to have a position within a team, for many of us, adds to our identity and shapes who we are. It is important that we provide opportunities for people with disabilities to work as well, which is where Re.Work.It fits to support and enable."
The other enterprises set up include a pop-up café, based in Redhill, and a Gardening Project.
*. Powered by LG Inform SCC