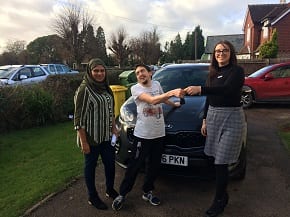 Staff and people we support at our residential service in Charlwood were thrilled to be handed the keys to their new vehicle this week. The car was purchased thanks to a very generous donation from the family of previous resident, Tim, who lived very happily at Millview for many years, prior to his death a year ago.
Tim's friends, and fellow residents, were excited to inspect the new car – Justin had been keenly awaiting its arrival all morning and was very happy to hold the car keys. Richard was clearly also very excited, as he kept saying 'car' and smiling.
The new vehicle was purchased in line with the wishes of Tim's family, who wrote to us after his death to say how happy he had been at the service, and how much he had enjoyed his outings in the car. Their hope was that their donation would be used to buy a new vehicle for the service, which would enable people we support to have even more opportunities to live full and active lives, and get out into their local community and further afield.
On behalf of staff and people we support at Millview, we send Tim's family our heart-felt thanks for their generous donation.