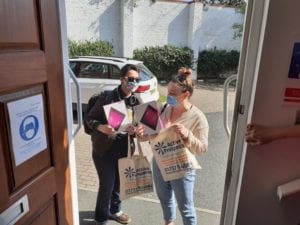 We are delighted to receive 20 brand new digital tablets for the people we support from the Good Things Foundation. These will help people we support to stay connected through the pandemic and beyond.
People with a learning disability are one of the most digitally excluded groups in the UK. During the pandemic many everyday services and activities have had to move online, which has widened this digital divide.
We have given the tablets to people in our residential and supported living services. We hope the tablets will reduce loneliness and improve mental wellbeing by allowing people to connect with family and friends. They can also access services, activities, information, and online courses. The tablets will also make it easier for people to attend Pro-Active Community and Surrey Peoples Group meetings.
We have recently appointed an Assistive Technology Lead to provide coaching and training. This will be available for people we support and staff on how to use different digital devices and assistive technology. The role has been part-funded by the Community Foundation for Surrey and Central Surrey Voluntary Action. The Assistive Technology Lead also provides advice on wearables, apps, communication aids and the like. The Pro-Active Community are electing Digital Champions, who will act as peer mentors. They will provide support and advice on how to use the tablets and other digital devices. All of this allows the people we support to have their own independence.
It's clear what these tablets mean to some of the people we support, as Richard shares. "I am really pleased to receive the tablet and the bits that came with it. I am still learning how to use my new tablet and need support with this. It will help me to do a course online and be able to look up the football results."