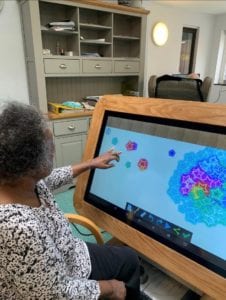 People we support have the world at their fingertips thanks to our investment in cutting edge assistive technology.
People living at two of our residential services can now enjoy the many benefits of brand-new interactive touchscreen tables. These large and durable magic tables use the latest 10-point touch screen technology to accommodate different needs. The tables come with toughened glass and a robust finish, making them perfect for intense daily use. The table is on wheels so it can be easily manouvered from room to room, and has locking brakes for added safety and security.
These amazing devices enable people we support to enjoy online activities or catch up with their family or friends on a 40" screen. They can also take part in sensory activities; or simply play games or puzzles. The interactive table is perfect for game-based learning and we can tailor them to everyone by downloading apps.
And there is more…
We have also purchased 5 VR headsets with a range of preloaded environments. People we support can now experience a range of environments. From snowboarding in Japan to the Northern Lights in Iceland;, swimming with Turtles in the Maldives to a range of country and seaside walks without leaving the living room! We also have a special camera that allows us to video our own content for the VR headsets.
We have also rolled out new switch-based new resources. This will enable people we support will be able to hold switch accessible disco's, art activities, cooking and even use the colourful switches to turn on and off household appliances. This will be great for building communication skills and giving choice and control to people who have physical disabilities.
We are grateful to SES Water, the Community Foundation for Surrey, Central Surrey Voluntary Action and Surrey County Council for their generous grants, which have enabled us to make such a positive difference to people with learning disabilities or autism in Surrey.