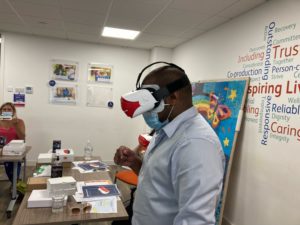 Assistive Technology can mean many things. The basic aim is to make every day experiences and tasks easier or possible using technology. This might be by making a hoover turn on and off with a big switch that can be used from a wheelchair, or from wherever is convenient. Or it might be saying one word to a smart hub like Alexa or Google Home, to open curtains, set lighting, play music and tell you what day it is and what is happening today.
At Active Prospects, we want to increase the use of assistive technology for the people we support. This took a leap in August when we trained some of our residential managers in using switches. These switch devices can increase life skills and independence for people with more complex physical disabilities. Each service was provided with equipment, training and 'how to' videos to share with staff.
We also introduced our Virtual Reality headsets to managers. This enables people to experience things they may never have the opportunity to do in real life. This includes swimming with turtles in the Maldives, cross country skiing, or floating in a hot air balloon. These experiences can give people with learning and physical disabilities life experiences that many of us will never have. Not only is it fun and exciting, but it also helps people develop skills for choice making.
We also shared a Virtual Reality system called Immersive Health, giving 360 degree view of a popular British walk. When combined with a floor based pedal exerciser, it encourages people to exercise. Whilst in the comfort of their own homes, they still have some of the experience of being out in nature.
The session with managers was filled with enthusiasm, everyone walked away with plans and ideas for sharing our amazing resources with staff and people they support.