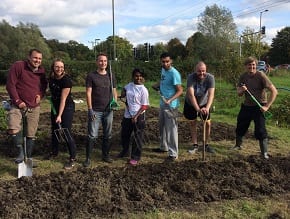 Active Prospects was delighted to have a Crawley-based team of staff from Virgin Atlantic helping out with its 'Active Growth' allotment project in Horley today, in what turned out to be lovely weather! Grand plans have been set out for the allotment, which will be used by people we support across all of our services.
Virgin have previously sent in a number of teams to work on a range of gardening projects at our services, and today's team was made up of staff members Adele, Rubini, Lee, Tyrone, Araj, Paul and Rob. The team dug deep to create seven sizeable rows that will be ideal for the people we support to start sowing.
Mick and Colin from Active Prospects' handymen team, who have been overseeing the 'Active Growth' project, have further plans to build sheds and develop an effective watering system for the allotment.
Lee Warsop, Manager of Employment Tax at Virgin Atlantic said: "There were plenty of aches and pains the next day but we all really enjoyed the day and were glad to be able to help out!"
We'd like to say a big thank you to the Virgin Atlantic team, and to Mick and Colin, for making 'Active Growth' truly get off the ground!